A big part of planning your high school courses involves thinking about your destination and then planning backwards to ensure that you have the required courses that you need. Students work to complete an Ontario Secondary School Diploma (OSSD), and Ontario Secondary School Certificate (OSSC), or a Certificate of Accomplishment.
In order to be granted an OSSD, a student must complete 30 courses, either the Ontario Secondary School Literacy Test (OSSLT) or the Ontario Literacy Course (OLC4O), and 40 hours of community service.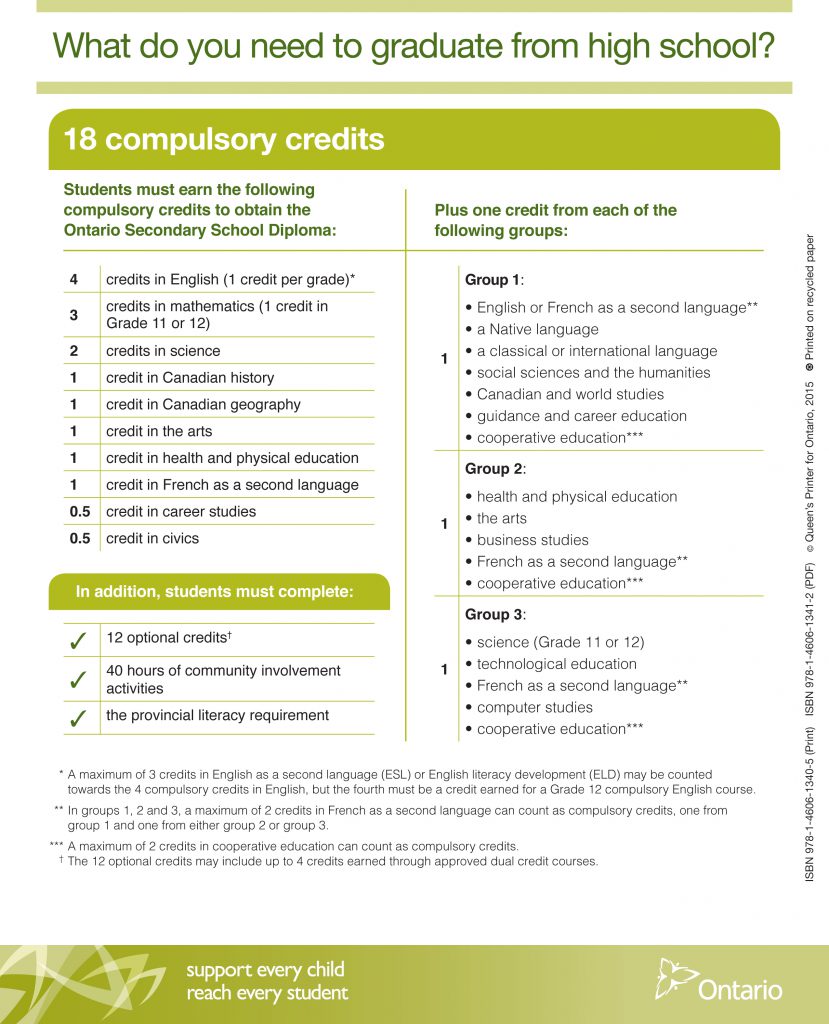 ​To achieve the OSSC, a student must complete 14 courses, 7 of which are compulsory and 7 of which are electives.  For more information about the OSSC, please refer to our course calendar​​.
Students who leave school before fulfilling the requirements of the OSSD or OSSC may be granted a Certificate of Accomplishment.  The Certificate of Accomplishment may be a useful means of recognizing achievement for students who plan to take certain vocational programs or other kinds of further training, or who plan to find employment, or move on to community living, after leaving school.
St. Michael is proud to offer a wide variety of courses to meet the needs of each individual student.  To see what we offer, course descriptions, and pre-requisites required, visit our course calendar​​.​
A member of our Student Services Team visits each elementary school a number of times in the fall.  In early February, students use their myblueprint.ca account to select their courses for the upcoming school year, in consultation with their parent(s)/guardian(s), classroom teacher, special education resource teacher (SERT), principal, and us.  Parent(s)/guardian(s) will have a sign off sheet come home that needs to be signed and returned to the grade 8 teacher, confirming consent for the selected courses.  In early spring, any students who have an IEP/IPRC will have a transition meeting at their elementary school where changes can be made.
Each year in February, students are invited to a course selection presentation and meeting.  They are also strongly encouraged to make an appointment with their guidance counsellor and speaking with their current and previous teachers, as well as with their parent/guardian, in order to make the most informed decisions regarding courses and pathways.
All course selection is done through myblueprint.ca.  This website is also a very useful tool in terms of interest inventories, occupation descriptions, job market outlook, and post-secondary training and programs.  The site has many tutorials to guide students through its use.
NOTE:  All students should be aware that once you have submitted your courses in myblueprint.ca, you cannot change them there.  You need to see your guidance counsellor to make changes after you have submitted your courses.  Also, course selection is only enabled in February of each year and is located in the top left corner of the webpage.  Planning your courses in the high school planner section of myblueprint.ca does NOT transfer to course selection, even though they look the same.
Changing Courses
Under the age of 18, parental permission must be given for any change to a student's academic timetable.  This permission is documented on the Course Change Request Form.  You can download a copy of that form here.​
Often, students can change their minds about the pathway they wish to study, the courses they want, or their post-secondary plans.  To the best of our ability, we will try to accommodate change requests for these reasons.  Changes are not always possible.
Typically, course changes will only be done in the first week of each semester.  Changes of pathway, where possible, will be considered for a few weeks beyond that, where academically possible.  Grade 11 and 12 students should be aware that any course they are enrolled in 5 days after the issuance of a mid-term report card must be recorded on their transcript, regardless of outcome.
Students are strongly encouraged to think very carefully and make a commitment​ to the courses they select originally​ as changes are not always possible.
e-Learning Courses
We offer 3 e-learning courses at our school, but also have access to 3 courses at St. Anne's Catholic Secondary School, and a provincial e-learning bank of courses shared by Catholic secondary schools in the province.  Students experience success in e-learning courses when they are highly motivated, self-starting, conscientious learners who can be self-directed, both in their learning and time management skills.  e-learning can help to create flexibility in a student's timetable and allow for a wider variety of course choice, in addition to what we offer.