Your Catholic Education @ St. Michael
St. Michael CSS is a vibrant, energetic environment where our Catholic faith guides us in all we do.  We are a Christ-centered school that adopts a holistic view of each person as created in the image and likeness of God and embraces​ each member of our Warrior family as a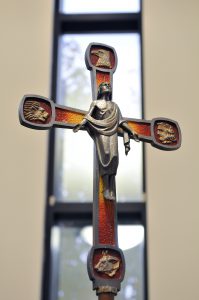 precious child of God.
If you are considering enrollment at St. Michael CSS, you are planning to attend a school that offers an education which is distinctively Catholic in nature.
There are a number of ways in which your education at St. Michael is unique:
  It infuses faith into the curriculum and encourages students to celebrate their faith;
  It fosters a strong home-school-parish connection;
  It supports sacramental preparation;
  It helps students respond to adversity;
  It teaches Catholic morals, values, and beliefs that students can practice everyday;
  It instills the Ontario Catholic Expectations (

OCGEs

)​ in our students.​
Enrolment at St. Michael is available to all students.  Students from Catholic schools, public schools, private schools, and from home-schooling are all welcomed and embraced as part of our Warrior family.
Students who are not Catholic, and their parents or guardians, need to be aware of the distinct nature of our curriculum and school culture. Catholic schools present and reflect the message of Christ throughout the entire curriculum, as well as all aspects of school life.  Students who are not Catholic or have not attended a Catholic school in the past can know that they will be very successful in religion classes, without prior knowledge of the Catholic faith, as long as they are diligent, open, and hardworking…as is true in any class.
We begin each day with prayer and reflections; we celebrate liturgies and rituals as a community; and look to every opportunity to promote equality, morality, and justice.
​Student Responsibilities
​​​All students are required to participate in religion classes yearly. That participation in religion must be both respectful of the Catholic faith and diligent in study.
Students will participate fully and with respect in prayer, days of spiritual retreat, school or class liturgies, and other expressions of our faith.
Students who are not Catholic will not receive the sacraments.
​Last of all, but most important, all who enter into our community do so knowing they are to respect those they meet and enjoy the respect of others. We are children made in God's image of love and dignity.
​#warriorfamily #weareone #warriorpride