Welcome to St. Michael Catholic Secondary School!
St. Michael Catholic Secondary School is located in the beautiful city of Stratford, Ontario.
We are a Catholic High School offering a comprehensive and robust academic program, and a wide range of co-curricular activities all centered around our Catholic Faith.
We offer an extensive choice of programs through our many Specialist High Skills Major programs (SHSM) such as Art & Culture, Business, Energy, Construction, and many more.
We also have a French immersion program for students who wish to continue their elementary school immersion experience.
Additionally, we have many Cooperative Education opportunities in and around Stratford and Perth County. Thank you for stopping by!  Please feel free to contact us with any questions you may have.
#warriorfamily       #weareone      #warriorpride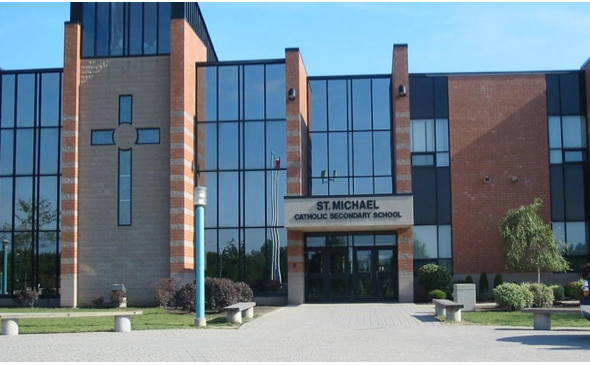 Contact Us
We welcome the opportunity to communicate with you at your convenience.​
Acting Principal: Carolyn Bell – 519-271-0890, X3112, cbell@huronperthcatholic.ca
Vice-Principal: Karen Hastings (Alpha A-M) – 519-271-0890, X3111, khastings@huronperthcatholic.ca
Acting Vice-Principal: John Corsaut (Alpha N-Z) – 519-271-0890, X3110, jcorsaut@huronperthcatholic.ca
240 Oakdale Avenue, Stratford, ON   N5A 7W2
519-271-0890
twitter: @StMikesCSS ​
facebook.com/SMCSS